Via of Bocchette
The Bocchette via ferrata, the most important and famous via ferrata in the Brenta Dolomites connects the Grostè pass to Bocca di Brenta through 3 ferrata routes: the A. Benini, High and Central Bocchette.
Three days in the heart of the Brenta through exposed ledges and breathtaking views, admiring unforgettable sunrises and sunsets. Don't miss it!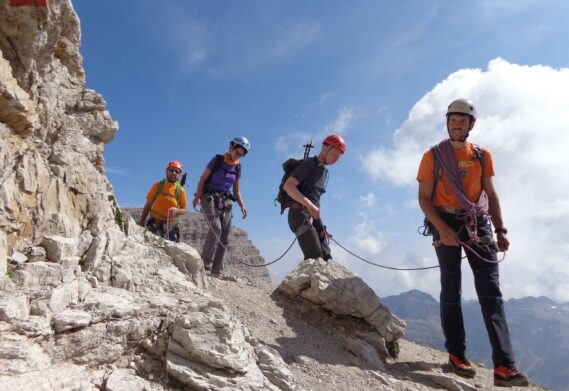 Location
Brenta Dolomites
Included
Service and guidance of a certified mountain guide for the whole duration of the experience
Mountaineering equipment (harness, helmet, via ferrata set)
Day 1
Meeting point at 8.30 a.m. at the Grosté cable car park.
Briefing and equipment handover to participants.
Ascent by cable car to the Stoppani refuge.
From Grostè pass (2444m), where we will be able to admire unique views over the Brenta Dolomites, the Presanella Group, Adamello and Cevedale, after a short approach (about 40 minutes) we will reach the start of the Alfredo Benini via ferrata.
The first part of the via ferrata goes uphill along a very panoramic ledge which will take us to an altitude of 2900 m. We will then descend and return, among thrilling views over lake Molveno and towards the Adamello Presanella Group, on the western side of the Brenta Dolomites, until we reach the Bocca di Tuckett (2648 m) and then return, first across the glacier and then along the path, to the Tuckett refuge (2270 m).
Dinner, overnight stay and breakfast.
Day 2
From the Tuckett refuge (2270 m) we climb up to the Bocca di Tuckett (2648 m) where the High Bocchette via ferrata begins. After climbing up the north ridge of the Brenta peak, by way of ladders and metal ropes in the more exposed sections, we reach the large ledge that cuts into the east face of the peak. We cross the ledge to get above the south face with its breathtaking view and then continue on to the Brenta peak ridge.
From this point, after a short descent, we climb up the famous "Scala degli amici" and the Massodi ledge.
Finally, with a thrilling, exposed descent, we return to the Alimonta refuge (2580 m).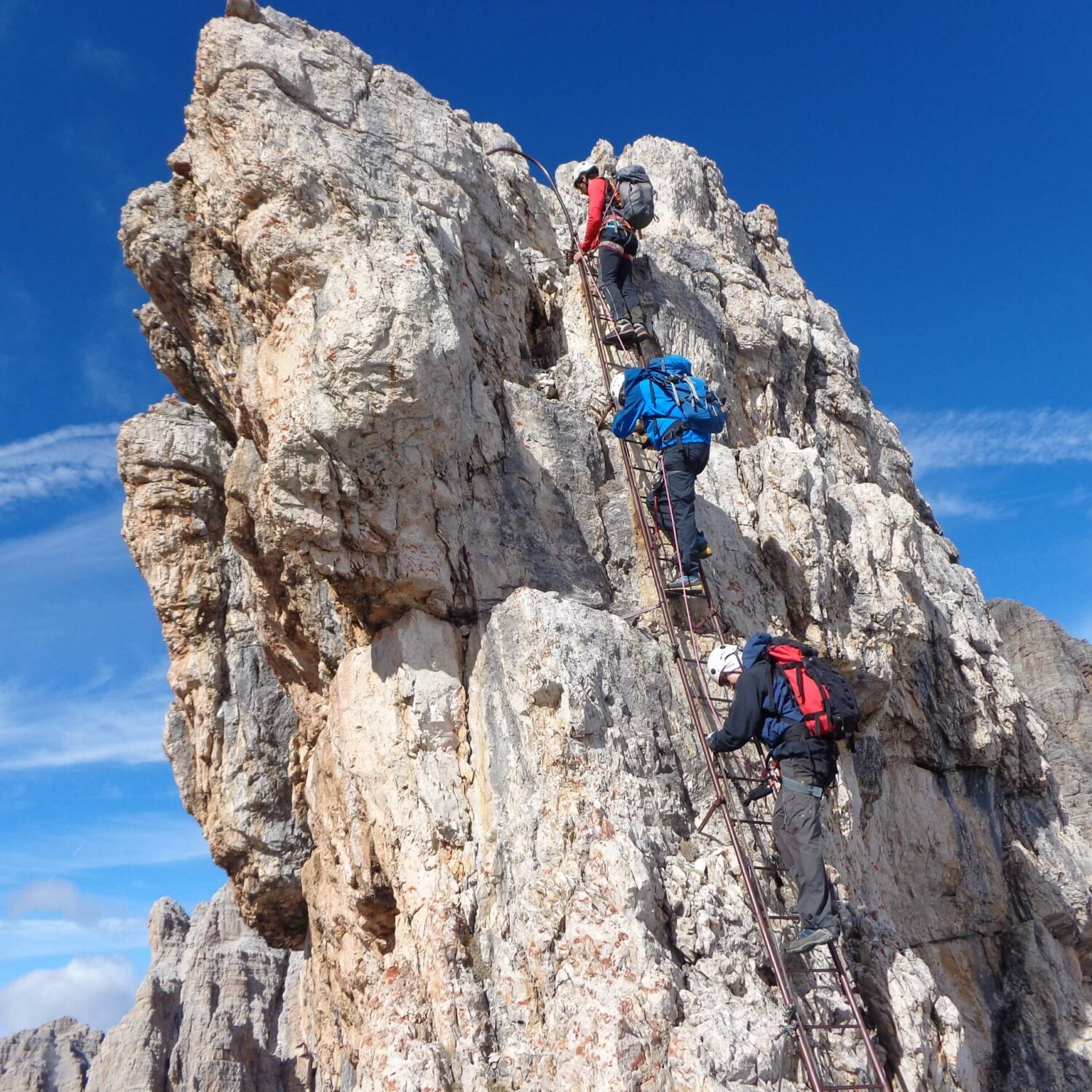 Day 3
From the Alimonta refuge (2580 m), we climb up to the Bocca degli Armi (2747 m): here the Central Bocchette via ferrata begins. After climbing the first ladders, through narrow but very panoramic ledges on the east side of Torre di Brenta, Sfulmini and Campanile Alto, we reach Bocchetta del Campanile Basso, where we change slope to pass on the north face of Brenta Alta peak and then across the south face we reach Bocca di Brenta (2553 m).
We then return towards Brentei refuge, Casinei refuge and Vallesinella.