Via ferrata Che Guevara
This is a beautiful, well-equipped route that offers breathtaking views over the Adamello group, the Brenta Dolomites and the other Dolomite groups at 360 degrees.
Although this itinerary does not reach a high altitude (1630 m asl), the overall height difference, the inclination of the wall and the length of the trail make it one of the most difficult via ferrata in Trentino.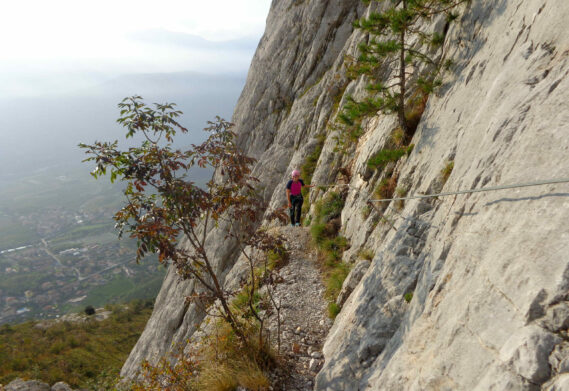 Season
primavera, autunno
Included
Service and guidance of a certified mountain guide for the whole duration of the experience
Loan of harness, climbing set and helmet
Individual fee
100 €/per person
minimum 3 people
Meeting in Sarche (or another agreed location) with the mountain guide early in the morning.
Briefing and equipment handover to participants, personal equipment check.
Transfer by car to the Pietramurata quarry.
We leave the car at the large car park in Pietramurata, we wear our climbing equipment and walk along the quarry and some orchards to cross a wood with a slight inclination that leads to the first part of the via ferrata which, already with a high gradient, reaches a plateau suspended on the wall called "Croz del Pin", where we can take a break and enjoy the view of the beautiful Laghi valley, before the second part of the climb.
We continue to climb the impressive east face of Casale mount, where a cable expertly fixed to the rock helps us advance to the via ferrata book box. From this point we continue mainly on steep wooded terrain until we reach the very panoramic summit of Casale mount where we find the Don Zio hut.
For the descent we have several possibilities: certainly the easiest one is to follow the road towards the village of Comano, where we can arrive by car.