Sassara peak
One of the most challenging and aspired alpine climbs, among the classic Brenta climbs. The Sassara peak reaches almost 2900m, its summit overlooks the entire Flavona valley with lake Tovel on one side and the Meledrio valley and Campo Carlo Magno on the other.
It is a beautiful and complex climb, where it is necessary to face important slopes (in some points over 40/45°) both on the ascent with crampons and skis on the rucksack and on the descent. The guide will provide everything you need (rope, descender and anchors) to ensure safety.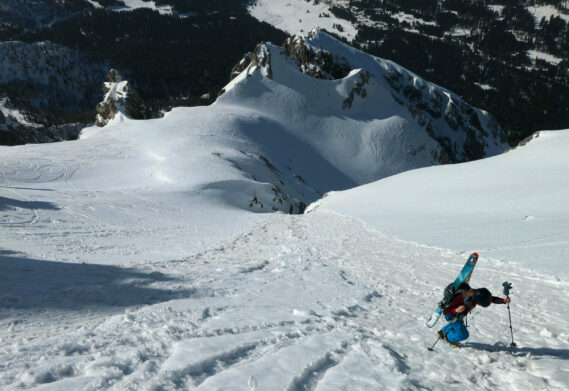 Season
primavera, inverno
Location
Brenta Dolomites
Included
Service and guidance of a certified mountain guide for the whole duration of the experience
Teaching of climbing techniques (also with crampons and ice axe) and of descent in difficult conditions
Loan of harness, helmet, ice axe, crampons and ARTVA if necessary
Individual fee
200 €/per person
2 people
Meeting at 8.00 a.m. at the Grostè cable car car park (1651m).
Briefing and material check.
Departure on skis along an easy road to the Mondifrà hut (1636m).
We take the Gelada valley and leave it about one third of the way up to climb on the left, until we almost reach the Bocchetta di Mondifrà. From this point, we go up the rill between Sassara peak and Sasso Alto, which becomes progressively steeper. At the base of an evident rocky area, we cross to the left (key passage) and climb with crampons on our feet up to the slope that leads directly to the summit.
This is an ascent that should be done with good training and excellent snow conditions.
The descent is along the same line, so it is necessary to take off our skis again in the key section and do a section of the route backwards with crampons.
Height difference in ascent: 1300 m
Height difference in descent: 1300 m
Difficulty: OSA
Equipment required
Gloves, hat, sunglasses, small backpack with snacks and thermos, clothes change, ski mask. Skis, boots, skins, ARTVA, shovel, probe.