Brenta Tower – Via Normale
The Brenta Tower is the largest monolithic pillar on the Brenta: with a height of 3014m it is also the highest tower. It overlooks the magnificent basin above Alimonta refuge and is crossed almost at its base by the Central Bocchette ledge.
There are several routes up to the Tower' summit, including the normal route, a very articulated but natural climb that follows the weakest points of the wall. It begins in the canal just below the high rill of Sfulmini (SE side) and crosses to the N face, where we find the most challenging passage.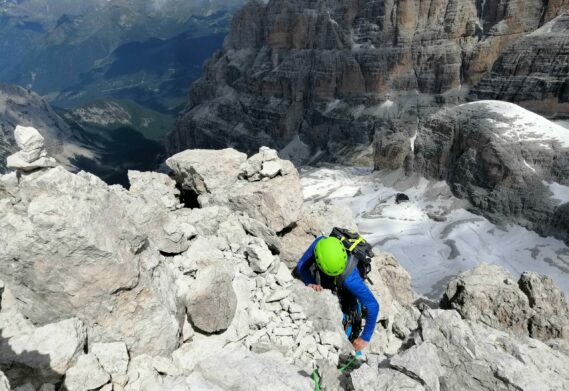 Location
Brenta Dolomites
Included
Service and guidance of a certified mountain guide for the whole duration of the experience
Introduction to climbing techniques and rope manoeuvres for progression and abseiling
Loan of harness, helmet, lanyard, ATC and crampons
Individual fee
250 €/per person
2 people
Depending on your physical preparation and experience, you may decide to leave very early from Vallesinella (around 4:30 am), or around 7:00 am from Alimonta refuge. In any case, the actual starting point of the route is at the attack of the Central Bocchette.
We follow the route of the via ferrata around the Brenta Tower until we reach Bocchetta Alta degli Sfulmini. At this point, we leave the path and climb up firstly a section of the rill that leads to the Bocchetta itself, then the rocky wall on the right.
The climb is very variable and amusing, alternating easy climbing sections with some sections to be done with short rope.
When we reach the middle ledge, we follow it and return to the N side of the tower. This wall is right above the refuge and it is never too difficult to climb it (max III+), but always rather exposed: we climb up the chimney to the fork between the peak and the summit. The main difficulties end here, but we should always be careful when tackling the small terminal rocks up to the actual summit.
The return follows the line of ascent to the middle ledge, so it is rather laborious with a series of abseils. From here we can decide to repeat exactly the same route, longer but less complex, or to descend the whole N face with a further series of abseils and some passages on small rocks.
Equipment required
Normal mountaineering equipment, Harness, Helmet, Climbing boots suitable for grade III climbing, Lanyards, 1 ring carabiner, Crampons (depending on glacier conditions at the Bocca degli Armi).