"Ai caduti dell'Adamello" refuge and Cresta Croce
Ski touring excursion at high altitude, reaching the 3303 m Cresta Croce peak.  Two days immersed in the wonderful and wild glaciers of the Adamello which will end with the beautiful downhill of Pisgana or Folgorida valley.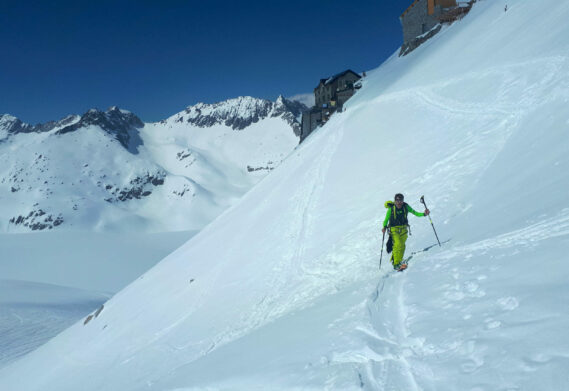 Included
Service and guidance of a certified mountain guide for the whole duration of the experience
Individual fee
330 €/per person
2 people
250 €/per person
3-4-5 people
Meeting at 7:00 a.m. at the Guides' office, material check for all participants.
Transfer by own means to Tonale pass, Presena cable car parking area. Ascent by cable car to Presena pass.
We begin to ski downhill immediately, with a good skiing in a southern direction until we reach the Mandrone refuge, passing near lake Scuro.
Once at the Mandrone refuge we put the skins on our skis and continue up the slope, which ascends gently to the base of the glacier. Passing under the three Lobbie and over the glacier's crags we arrive at the Lobbia Alta pass, from where we soon reach the refuge "Ai caduti dell'Adamello".
After a stop at the refuge, if conditions permit it, we reach the Lobbia Alta peak: its small cross and the view are an excellent end to the day, before returning to the Lobbia refuge "Ai caduti dell'Adamello"; here we are welcomed by the owner with a nice dinner and a warm bed.
The following morning, after an early breakfast, we climb up to the Cresta Croce where we can see the impressive cannon 149, also known as the "hippopotamus", which was brought up there by the Alpine troops during the First World War.
For the descent we have two possibilities:
– we can go down to the Mandron glacier and with a short climb we reach the Venezia pass, where the long and amusing descent of the Pisgana begins, which will take us to Ponte di Legno. From this point we will return to the Tonale pass and to the car by cable car.
– we can go down to the Lobbia glacier which we will cross in order to go up again with 150m of difference in height to the Folgorida pass, descending through the valley with the same name in a wild environment up to the Genova valley, which we will then follow on the slightly downhill road to the village of Carisolo and then return to the Tonale pass to pick up the car.
Height difference in ascent:
first day: 600 m
second day: 350 m + 250 m
Height difference in descent:
first day: 600m
second day: 1800 m for Ponte di Legno or 2400 m for Carisolo.
Difficulty: BSA