Via Preuss to Campanile Basso
A beautiful and famous route that leads from the main road to the summit of Campanile Basso passing by its east face. To be combined with the normal route or with the routes on the ridge for the more expert climbers.
Opened in 1911 by the strong mountaineer Paul Preuss, it was climbed and descended by him without the use of ropes, in his typical style.
It is rich in history, but at the same time modern, as the ascent is along slabs with difficulties up to V.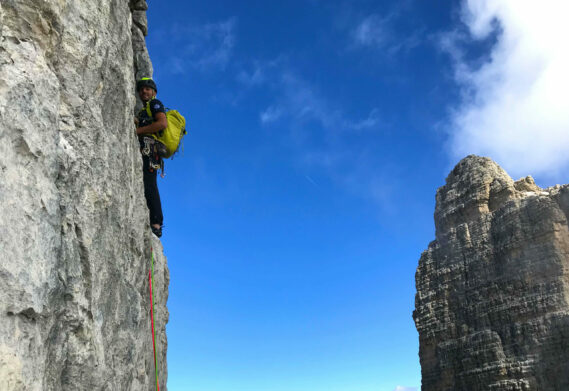 Location
Brenta Dolomites
Included
Service and guidance of a certified mountain guide for the whole duration of the experience
Mountaineering equipment (harness, helmet, shoes, carabiner, rope lanyard and descender)
Individual fee
280 €/per person
2 people
Meeting in the early afternoon at the office of Madonna di Campiglio Mountain Guides.
Briefing & equipment check.
Transfer by car to Vallesinella and then walk to Brentei refuge or Tosa Pedrotti refuge where we will spend the night.
The next day, we leave the refuge early in the morning and head for the attack of the Campanile Basso wall, first following the path and then along the first part of the Central Bocchette via ferrata. After having faced the first part of the normal route, once we have reached the "Stradone Provinciale" (Provincial Road), by using 4 lengths of rope, we reach the top of the bell tower where there is the famous bell built with metal tubes.
From the top, after a break to admire the view and the ritual photo, we will descend by the normal route through the technique of abseiling to get to Bocchetta del Campanile Basso. Then through the via ferrata of Central Bocchette and path n.318 we will return to Brentei refuge and then to Vallesinella.