Via Hartman-Krauss, west corner of Campanile Alto
Great ridge itinerary on one of the most famous peaks of the Brenta group, with difficulties up to IV+ and an altitude difference of 600 metres. An excellent testing ground for those who want to try the longer and more severe edge of Crozzon di Brenta.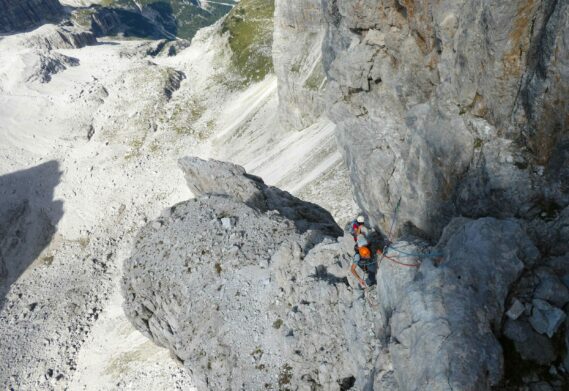 Location
Brenta Dolomites
Included
Service and guidance of a certified mountain guide for the whole duration of the experience

Loan of mountaineering equipment (harness, helmet, climbing-shoes, carabiners and ATC)
Individual fee
340 €/per person
2 people
Meeting in the early afternoon at the office of the Madonna di Campiglio Mountain Guides.
Briefing & equipment check.
Transfer by car to Vallesinella and then walk to the renovated Brentei refuge, where we will spend the night.
The next morning, after a good breakfast, with the light of our headlamps, we take the flat path n.318 to Bocca di Brenta. where it passes through the small amphitheatre formed by the Castei della Val Brenta, Bimbo di Monaco, Torre Prati, Torre di Brenta, Sfulmini and Campanile Alto. We leave the main path and follow a narrow track up to the start of the route with a first IV+ slot. We continue along beautiful walls, chimneys and dihedrals, with excellent quality rock, close to the edge of the ridge, passing the various towers and ridges that characterise this long and beautiful crest. Once at the top, we descend from the Via Normale using the abseil technique to the Central Bocchette via, where we reach the Bocca di Brenta near the Tosa Pedrotti huts. We finally take path no.318 back to Vallesinella.