Via Ferrata to Capi peak
An enchanting via ferrata with a priceless view over lake Garda, not very demanding and also suitable for beginners.
The Fausto Susatti ferrata leading to Cima Capi is a very scenic trail with lovely views over the nearby Garda basin and the Ledrensi Alps.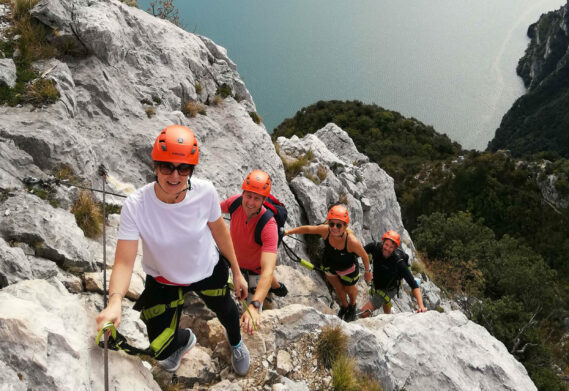 Season
primavera, autunno
Included
Service and guidance of a certified mountain guide for the whole duration of the experience
Mountaineering equipment (harness, helmet, via ferrata set)
Logistical information
Individual fee
150 €/per person
2 people
100 €/per person
3-4-5 people
Meeting at 9.00 a.m. at a meeting point to be agreed with the mountain guide.
Briefing and handover of the equipment.
By car we reach the village of Biacesa, where there are some car parks. Along an easy, mixed path through the underwood we approach the starting point of the via ferrata (about 1 hr). The via ferrata trail runs mostly along the ridge, over easy rocks and through the ruins of old Austro-Hungarian trenches from the First World War.
We will reach the summit of Capi peak (about 3 hours from the starting point) from which we can enjoy a breathtaking view over lake Garda.
The first part of the return journey, again along the via ferrata, takes us to a comfortable resting place at the Sat Ledro bivouac, near to the ancient church of San Giovanni, from which we return to the village of Biacesa along an easy path (about 5 hours from the start).