Via Ferrata SOSAT
The SOSAT via ferrata is a panoramic and enjoyable trail that begins at the Tuckett refuge and ends at the Brentei refuge.
An exciting and satisfying trail, also suitable for those who are facing these vertical adventures for the first time.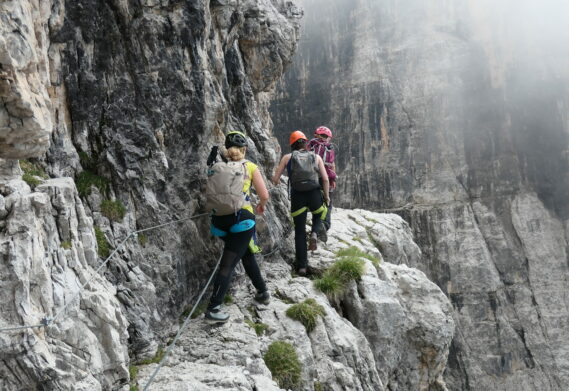 Location
Brenta Dolomites
Included
Service and guidance by a certified mountain guide throughout the experience
Mountaineering equipment (harness, helmet, via ferrata set)
Meeting point at 8.30 a.m. at the Grosté cable car park.
Briefing and equipment handover to participants.
Ascent by cable car to the Stoppani refuge.
From the Grostè pass (2444m), where we will be able to admire unique views over the Brenta Dolomites, the Presanella Group, Adamello and Cevedale, following path O316, after a series of ups and downs, we will arrive at the Tuckett refuge (2270m); After a short while the via Ferrata SOSAT will take us through exposed and exciting passages to about 2450 m (the highest point of the via ferrata) where we can enjoy a fantastic view over Crozzon di Brenta, Tosa peak and the Adamello-Presanella group.
From this point begins the most technical part of the via ferrata, which will take us to the rill that descends from the peaks of Campiglio and then to the end of the via ferrata, through a very panoramic large ledge full of dolomitic flowers.
At the end of the via ferrata we return along a path to the Brentei refuge (2270 m), the Casinei refuge and then to Vallesinella (1511 m), before returning to Madonna di Campiglio by bus.