Via ferrata "Signora delle Acque"
A new via ferrata, which climbs almost vertically alongside the Sajant of Rio Ruzza waterfall: its ladders and bridges make it very exciting on a trail with a constant exposure.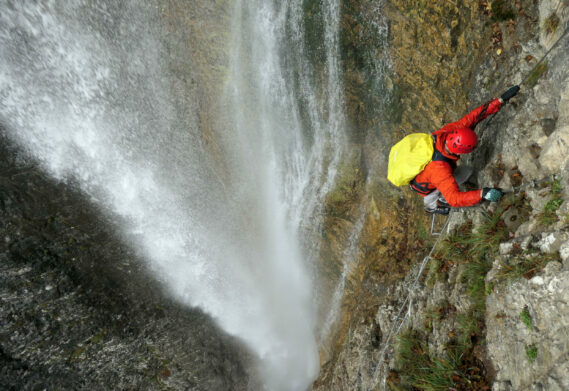 Season
primavera, autunno
Location
Prealpi Gardesane, Ballino
Included
Service and guidance of a certified mountain guide for the whole duration of the experience
Mountaineering equipment (harness, helmet, via ferrata set)
Individual fee
100 €/per person
2 people
80 €/per person
3-4 people
From the village of Ballino in the municipality of Fiavè, we take an easy mountain road and then we walk along a path up to the base of the Sajant waterfall, a 30-minute walk. The via ferrata begins here and is clearly visible due to the numerous stirrups embedded in the rock. We climb vertically up alongside the water: almost at the top we find a Tibetan bridge that crosses the waterfall, with a few more stirrups we move into the woods where in a short time we reach the road in about 1,15h from the attack. From this point, with an easy walk, in 40min we return to Ballino.