Via ferrata in Preore – Artpinistic path
This is a special via ferrata which, in addition to the equipped trail, combines an artistic path with around 30 sculptures scattered along the way.
The theme of these sculptures is related to the world of mountaineering and the imaginary inhabitants of the forests, with a few aphorisms inviting us to think more deeply. The via ferrata is not trivial at all, alternating between vertical sections and easy passages through the woods.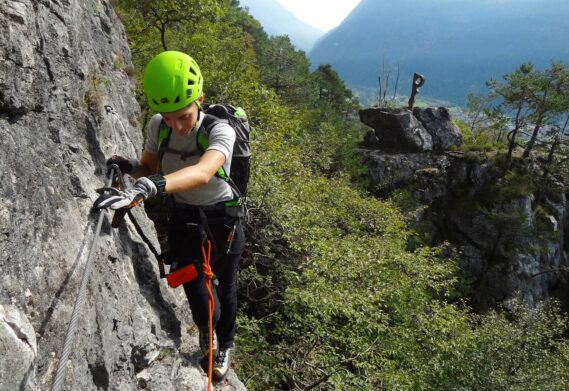 Season
primavera, autunno
Location
Giudicarie valleys, Preore
Included
Service and guidance of a certified mountain guide for the whole duration of the experience
Individual fee
100 €/per person
2 people
80 €/per person
3-4 people
Meeting point at the Guides' Office or at the Preore climbing wall.
From the climbing wall, we go up the steep steps that lead to the first vertical section where, with the help of the metal cable and natural handholds, we can climb the most demanding section of the via ferrata. The route then continues with an alternating sequence of small suspended woods and passages along the via ferrata, discovering the bizarre sculptures that characterize this excursion.
Total difference in altitude: 260m.