Via Fehrmann Campanile Basso
This is a great itinerary opened back in 1908 and follows almost entirely the imposing dihedron formed between the large wall of the Campanile Basso and the west face of the same Campanile. Difficulty IV+ constant on rock which is always excellent. A very aesthetic and technical climb.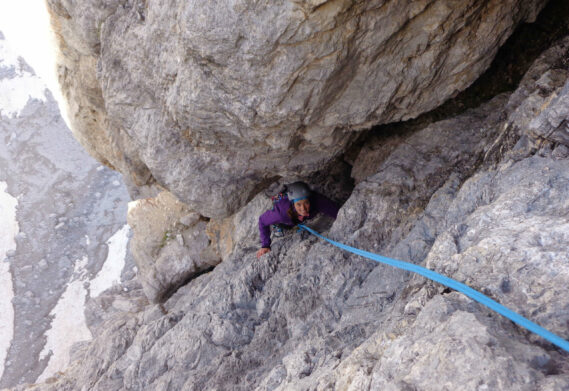 Location
Brenta Dolomites
Included
Service and guidance of a certified mountain guide for the whole duration of the experience
Individual fee
340 €/per person
2 people
Meeting in the early afternoon at the office of the Madonna di Campiglio Mountain Guides.
Briefing & equipment check.
Transfer by car to Vallesinella and then walk to the renovated Brentei refuge where we will spend the night.
Early in the morning of the second day, after breakfast, we take path n.318 to Bocca di Brenta, until it passes under the rill that descends from the Bocchetta of Campanile Basso. We leave the main path and follow a narrow track to the start of the route. With two relatively easy pitches we head up to the system of dihedrons at the top, which are done with technical climbing on excellent rock and allow us to reach the road. With a last stretch of climbing, following the normal route we can reach the summit of Campanile Basso. Once at the top, we descend from the normal route using the double rope technique with some exposed and overhanging abseils to the Central Bocchette route, which we follow through the Bocca di Brenta near the Tosa Pedrotti refuge. We finally take path no.318 and return to Vallesinella.