Via del Missile
One of the best known and most famous vias in the Sarca valley, opened in 1981 by the Stengel-Baldessarini team on the first pillar of Casale mount. It runs along the left side of a yellow spot in the shape of a missile, from which it takes its name.
A via of great satisfaction that should not be missed.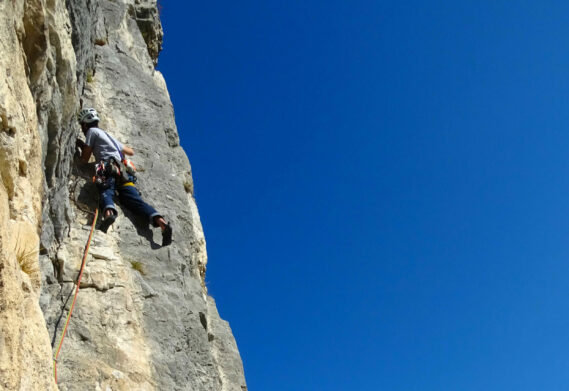 Season
primavera, autunno
Included
Service and guidance of a certified mountain guide for the whole duration of the experience
Mountaineering equipment (harness, helmet, climbing-shoes)
Individual fee
180 €/per person
2 people
Meeting with the guide in Sarche or in a place to be defined, briefing, equipment check and transfer to the quarry located between the village of Sarche and Pietramurata.
From this point, through a steep path, we head to the cliffs of Sisiphos and Atos and from this latter along a track until we reach the base of the wall: from there we get to the start of the via in about an hour.
The via has 11 pitches up to VI+ and some steps in AO. The climbing is on excellent rock, alternating dihedrals, fissures, slabs and makes the climb truly amazing because of its exposure.
Once at the top of the wall, a path leads back to the valley and to the car park in about 2 hours.