Via Cesare Lewis "Manolo dihedral"
Beautiful via opened in 1978 by the strong team M. Zanolla (Manolo) – G. Groaz – M. Furlani, which runs through fabulous dihedrals and fissures. The good pegging and the overall non-excessive difficulties certainly make this a must-do classic. Excellent in mid-season and in winter.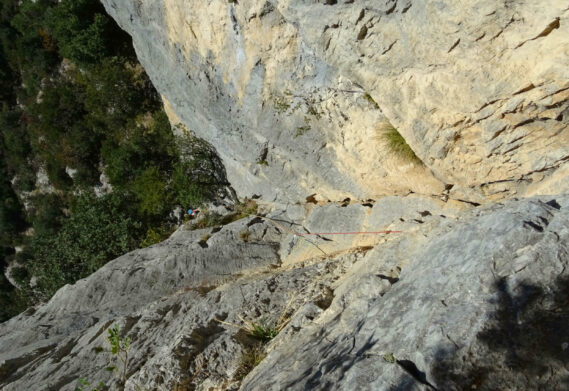 Season
primavera, autunno
Included
Service and guidance of a certified mountain guide for the whole duration of the experience
Mountaineering equipment (harness, helmet, climbing-shoes, carabiners and ATC)
Individual fee
180 €/per person
2 people
Meeting with the guide in Sarche or in a place to be defined, briefing, equipment check and transfer to the car park of the Pietramurata cross circuit.
From this point, we walk first along a paved road and then along a path until we reach the base of the wall where the via begins (about 45 minutes).
The via has 8 lengths of rope up to grade VI and some passages in AO, all the pitches are beautiful and the climbing is very satisfying. The key pitch is the fourth, in which we have to overcome a roof at its weakest point.
Once arrived at the top of the wall (Pian della Paia), with about one hour of walking on the path, we return to the car park where we left.