Tuckett refuge
Ski mountaineering excursion to Tuckett refuge, in the heart of the Brenta Dolomites. A very scenic tour also suitable for medium-level ski mountaineers.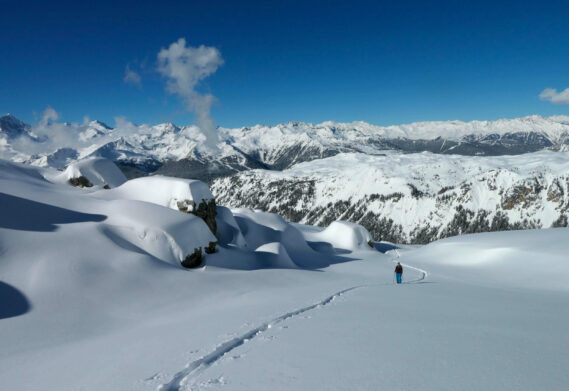 Season
primavera, inverno
Location
Brenta Dolomites
Included
Service and guidance of a certified mountain guide for the whole duration of the experience

Learning of skiing techniques both uphill and downhill depending on the type of snow
Training in the use of avalanche rescue equipment (ARTVA) and in the principles of nivology
Meeting at 8.30 a.m. at the start of the Grostè cable car, briefing and equipment check for all participants.
Ascent by cablecar to the Stoppani refuge (Grostè pass).
After having put on our alpine skis we will head south-west to reach just below the Torrione di Vallesinella from where we will put on our sealskins and begin the ascent to the refuge. After a relatively gentle ascent, we arrive at the Tuckett refuge, which, unlike during the summer season, looks like a wild but no less fascinating place. From this point begins the spectacular descent through the Tuckett valley which will take us to Vallesinella Bassa and then to the Brenta valley.
From the Brenta valley we return to Madonna di Campiglio by taxi.
Height difference in ascent: 300 m
Height difference in descent: 1000 m
Difficulty: MS