Tour of the Empress
A half-day snowshoe hike through snow-covered "panettoni" mountains with an enchanting view over the nearby Brenta Dolomites.
This route is also suitable for beginners and crosses a variety of landscapes and enchanting mountain pastures. During the excursion, there will be an introduction to nivology and a brief history of the local mountain pastures.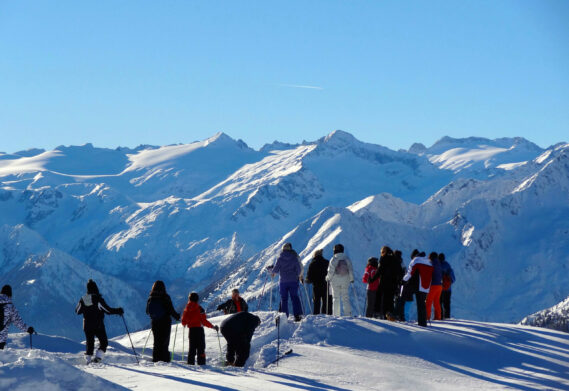 Location
Brenta Dolomites
Included
Service and guidance by a certified mountain guide throughout the experience
Loan of snowshoes and sticks
The cost of the cable car (one way) is not included in the price
Individual fee
40€/per person
minimum 6 people
Departure from the Guide's Office, via Campanil Basso 5.
Ascent by cable car to the mount Spinale. Descent to Fevri hut, a terrace of incomparable beauty, with a unique view over the Brenta group. We continue slightly downhill along the scenic Empress trail until we turn north over the beautiful Campiglio basin.
We follow a snowy path to descend gently to Imperatrice square and then to Madonna di Campiglio.
This is a very scenic and easy tour.
Morning excursion at 9.30 a.m., return at 12.30 p.m.
Afternoon excursion at 1.30 p.m., return 4.30 p.m.
Equipment required
Comfortable snow clothing, winter footwear with high collar, gloves, hat, sunglasses, backpack with water and snacks