Spinale lake – Camp Centeneir – Boch refuge
Half-day snowshoe hike across the fascinating heights that lead from mount Spinale to the Grostè plateau. An itinerary of rare beauty and panoramic views that allows you to admire the Brenta Dolomites from a privileged vantage point: if undertaken with good visibility, this excursion will offer unforgettable emotions.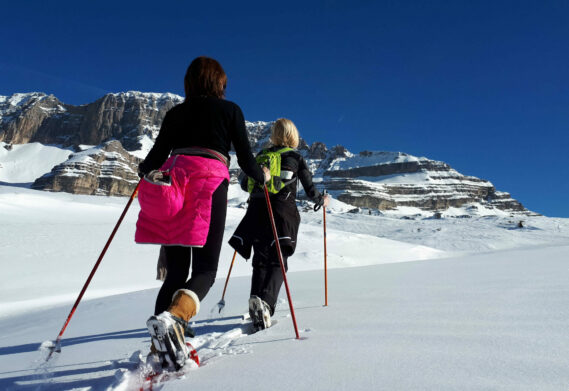 Season
primavera, inverno
Location
Brenta Dolomites
Included
Service and guidance of a certified mountain guide for the whole duration of the experience
Loan of snowshoes and sticks
The cost of the cable car (one way) is not included in the price
Individual fee
40€/per person
minimum 6 people
Meeting and departure from the Alpine Guides' office in via Campanil Basso n.5.
We move on foot to the nearby Spinale lift station, from where we soon reach the summit. We put on our snowshoes and walk up and down gently across the immaculate plateaus. The panorama offers priceless views over the nearby Brenta Dolomites, the Adamello Presanella and Ortles Cevedale mountain groups. Once we reach the frozen basin of lake Spinale, we proceed towards the wide expanse of Camp Centeneir, a place known for the "Suoni delle Dolomiti" festival. Among clearings we continue in the direction of Pian del Graffer where we find the Boch refuge and the nearby cable car which will take us back to the valley at Campo Carlo Magno. Again, snowshoes on our feet and we soon reach Madonna di Campiglio, until we reach the guide's office.
Morning excursion at 9.30 a.m., return at 12.30 p.m.
Afternoon excursion 1.30 p.m., return 4.30 p.m.
Equipment required
Comfortable snow clothing, winter footwear with high collar, gloves, hat, sunglasses, backpack with water and snacks