Skitouring Malga Fevri
Classic itinerary that starts directly from the town of Madonna di Campiglio and allows you to reach the Graffer Refuge or the Cima dello Spinale while always remaining off the ski slopes and enjoying a unique panorama of the Brenta Dolomites.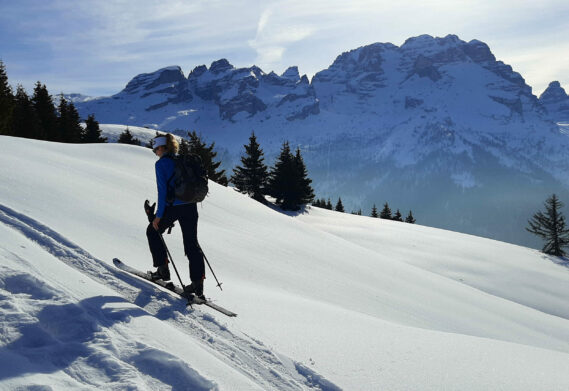 Location
Dolomiti di Brenta
Included
Service and accompaniment by a certified mountain guide throughout the experience
27.12.2023, 03.01.2024, 17.01.2024, 31.01.2024, 14.02.2024, 28.02.2024, 13.03.2024, 27.03.2024
Dolomiti di Brenta
Meeting at the Alpine Guides office in Madonna di Campiglio.
Go up the slope that runs alongside the Belvedere slope and head towards the summer forest road that goes up to Malga Fevri.
Near the latter you begin to enjoy the best view of the Brenta Dolomites and you can choose whether to climb to the top of Monte Spinale or, through ups and downs, reach the Graffer Refuge.
The descent takes place along the ski slopes or the nearby woods, which also makes the trip suitable for those who are new to ski mountaineering.
Excellent for learning uphill progression techniques and the first approaches to off-piste skiing.
Difference in altitude: 600 m (to Monte Spinale)
Descent altitude difference: 600 m
Difficulty: MS
Dislivello in salita: 600 m (al Monte Spinale)
Dislivello in discesa: 600 m
Difficoltà: MS