Schulz peak
The excursion to Schulz peak, also known as "Artuich peak" is an interesting climb with alpine passages of moderate difficulty in the Presanella mountain group. Excursion suitable for those who already practice ski mountaineering and want to increase their skills.
Suggestive itinerary in solitary environment.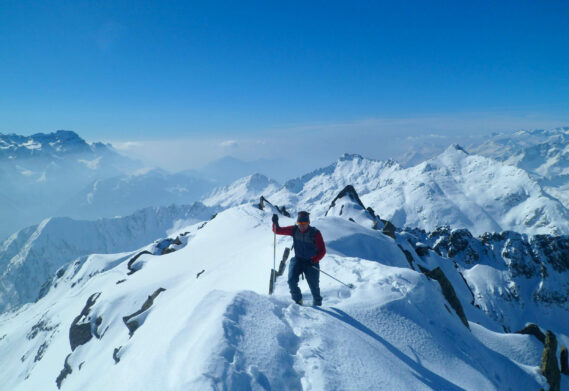 Season
primavera, inverno
Location
Madonna di Campiglio
Included
Service and guidance of a certified mountain guide for the whole duration of the experience
Teaching of skiing techniques, both in ascent and descent based on the type of snow.
Teaching of the use of the device of search in avalanche (ARTVA) and hints of nivology
Individual fee
180 € /per person
2 people
120€ /per person
3 people
Meeting at the Guides Office at 8:30 am.
Briefing and equipment check.
After a short transfer by car we reach the parking place near the restaurant Genzianella. Departure on skis along the forest road that soon leads to Vigo hut (possible refreshment stop). Continuing then along the track in the wood, we rise until we reach the Malghette lake.
Once we have crossed the lake. we climb along the valley, first wooded, under the directive of our summit until we reach loc. Lago Alto, near the homonymous frozen lake. From here the panorama is very rewarding, and along a ridge we continue the excursion along not steep slopes. Once in front of the rocky summit ridge, through a snowy channel (skis fixed on the rucksack) we reach the summit slopes that in a short time will lead us to the summit.
The excellent view will reward our efforts.
Descent along the ascent route.
Height difference in ascent: 1100 m
Height difference in descent: 1100 m
Difficulty: BSA