Roma peak
The ski mountaineering excursion to Roma peak is an easy trip that is also suitable for ski mountaineering beginners.
Thanks to the moderate height difference and the enchanting landscape, it has become one of the classic ski mountaineering tours in Madonna di Campiglio.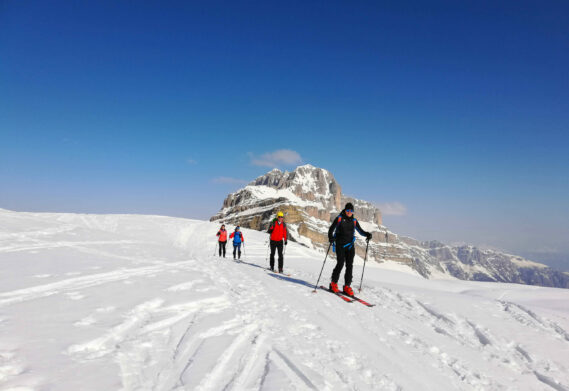 Season
primavera, inverno
Location
Brenta Dolomites
Included
Service and guidance by a mountain guide throughout the experience
Meeting at 8.30 a.m. at the departure point of the Grostè cablecar, briefing and equipment check for participants.
Ascent by cablecar to the Stoppani refuge (Grostè pass).
After putting on our alpine skis we will ascend in a south-easterly direction towards the Grostè peak, which is rounded to the left entering a high plain that we will cross to reach the Sella di Flavona, where there is a cross (reference point also for alpine ski crossings towards Molveno and the Tovel valley). From this point, we ascend the northern slope of Roma peak to reach firstly the pass and then the summit.
Return by the same itinerary: once reached the Grostè pass, we return from the slopes.
Height difference in ascent: 600 m
Height difference in descent: 1500 m