Ritorto pass
A very satisfying ski touring trip in the wild and beautiful environment of Nambino valley. Being a classic ski mountaineering tour of the area it is very popular, it does not present technical difficulties and is suitable for people with an intermediate level. Part of the climb offers a beautiful view over the Brenta group.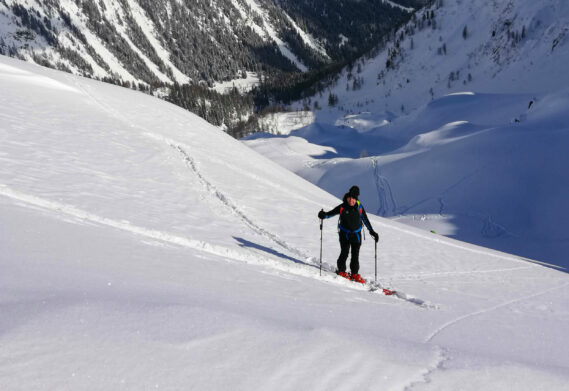 Season
primavera, inverno
Location
Presanella Group
Included
Service and guidance by a certified mountain guide throughout the experience
Meeting at 8.30 a.m. at the guide office in via Campanil Basso 5.
Briefing and equipment check.
Transfer by own transport (5 minutes) to Piana di Nambino (Zangola square).
At this point, once we have left our car and put on our alpine skis, we set off in the direction of the Nambino refuge along an easy path. Once we have passed the refuge on the left, we enter the woods following the summer trail until we reach a stream: we cross it and go up the slope above it on the left with inversions. Once we have crossed a wide slope with medium gradients, we will see the pass on our left, we continue in this direction until we have reached it and can admire the enchanting view over the entire Nambino valley, Serodoli peak, Nambrone and Ritorto peaks and all the Brenta Dolomites.
The descent follows the same line as the ascent on a shaded slope and often on fine powdery snow.
Total height difference in ascent: 600 m
Total vertical drop: 600 m
Difficulty: MS