Pradalago
A half-day snowshoe excursion across the sunny slopes of Pradalago, with stunning panoramic views on the nearby Brenta Dolomites and on Madonna di Campiglio.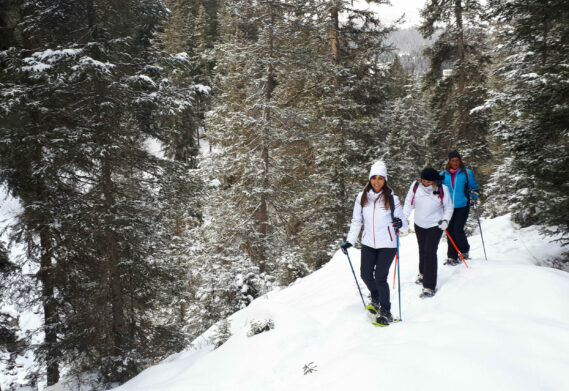 Location
Madonna di Campiglio
Included
Service and guidance by a certified mountain guide throughout the experience.
Loan of snowshoes and walking sticks.
The cost of the cable car (one way) is NOT included in the price.
Individual fee
40€/per person
minimum 6 people
Departure from the Guides' office in Via Campanil Basso 5, ascent by cable car Pradalago. The descent is not particularly difficult, through the panoramic slopes of Mount Pradalago, with a unique view of the Brenta group and the village of Madonna di Campiglio, "the pearl of the Dolomites". The path continues slightly downhill until it reaches Piazza Elvira and finally the village of Madonna di Campiglio.
A very panoramic and not too strenuous excursion.
Morning excursion at 9.30 a.m., return at 12.30 p.m.
Afternoon excursion at 1.30 p.m., return at 4.30 p.m.
Equipment required
Comfortable snow clothing, winter footwear with high necked collar, gloves, hat, sunglasses, backpack with water and snacks