Poza Bela
A half-day snowshoe hike descending from mount Spinale, an enchanting itinerary that offers a wonderful panorama over the Brenta Dolomites through wild larch and fir woods.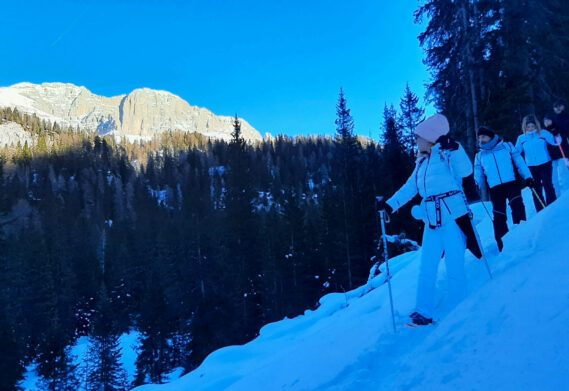 Location
Madonna di Campiglio
Included
Service and guidance of a certified mountain guide for the whole duration of the experience
Loan of snowshoes and sticks
The cost of the cable car (one way) is not included in the price
Individual fee
40€/per person
minimum 6 people
Departure from the Guide's Office, ascent by Spinale cable car.
Descent through the panoramic slopes of Spinale with a unique view over the Brenta group, passing by Boch hut and Poza Bela, descending around the north side of mount Spinale, via Poza Vecia to return to Fortini and then down to Madonna di Campiglio.
The first part of the tour is very scenic, while the last part goes through wild larch and fir forests.
Morning excursion at 9.30 a.m. Return at 12.30 p.m.
Afternoon excursion at 1.30 p.m. Return at 4.30 p.m.
Equipment required
Comfortable snow clothing, winter footwear with high collar, gloves, hat, sunglasses, backpack with water and snacks