Pian degli uccelli
A flat and slightly downhill tour, sunny and with a breathtaking view over the Brenta group, through a unique and uncontaminated environment.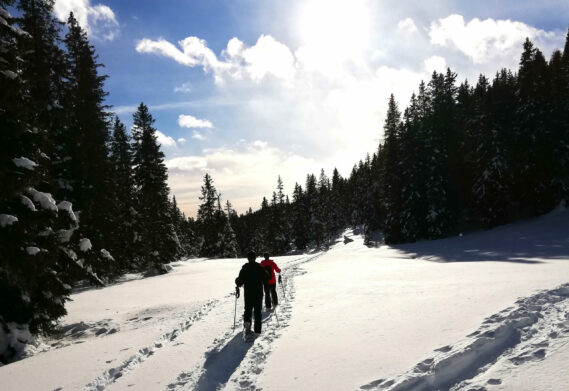 Location
Presanella Group
Included
Service and guidance by a certified mountain guide throughout the experience
Loan of snowshoes and sticks
Individual fee
40€/per person
minimum 6 people
Meeting point at the Guides' Office in Via Campanil Basso 5, transfer on foot to the Colarin Express cable car, ascent by cable car (not included) to Patascoss. From this point, after having put on your snowshoes, we go uphill for about 15 minutes to Pian degli Uccelli. We then cross immaculate snowfields to reach the path from the Ritorto hut to Madonna di Campiglio and back to the village. Pleasant and enjoyable excursion.
Morning excursion at 9.30 a.m., return at 12.30 p.m.
Afternoon excursion 1.30 p.m., return 4.30 p.m.
Equipment required
Comfortable snow clothing, winter footwear with high collar, gloves, hat, sunglasses, backpack with water and snacks