Oesterreicher valley
A half-day snowshoe excursion in one of the most evocative woods of Madonna di Campiglio, characterised by a beautiful snowy canyon where, with a bit of luck, animals can be spotted. An excursion of remarkable beauty, especially if undertaken immediately after a good snowfall.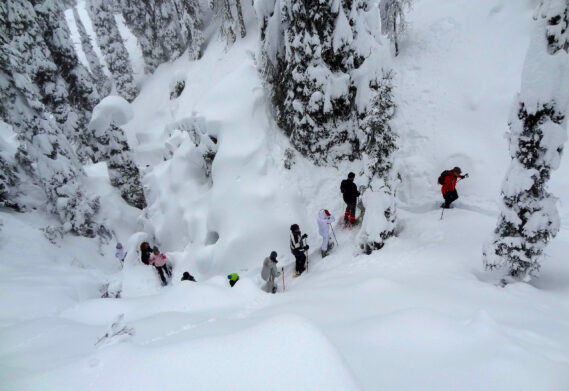 Location
Madonna di Campiglio
Included
Service and guidance by a certified mountain guide throughout the experience
Loan of snowshoes and sticks
The cost of the skibus (one way) is not included in the price
Individual fee
40€/per person
minimum 6 people
Meeting point at the Guides' Office in Via Campanil Basso 5.
Ascent by ski bus to Campo Carlo Magno Pass. Heading east towards the majestic Gelada valley, we enter a spectacular canyon that we follow slightly uphill for about an hour. A circular route takes us back to the entrance of the Grotte valley. Following a short stretch in the woods, we return to Madonna di Campiglio.
Morning excursion 9.30 a.m., return 12.30 p.m.
Afternoon excursion 1.30 p.m., return 4.30 p.m.
Equipment required
Comfortable snow clothing, winter footwear with high collar, gloves, hat, sunglasses, backpack with water and snacks