Nord-est Presanella ridge
A very scenic and rewarding high mountain itinerary that reaches the highest peak in Trentino by climbing the watershed ridge between the north and east faces. The ascent is not too difficult but neither trivial, alternating rock climbing passages with sections on snow or ice.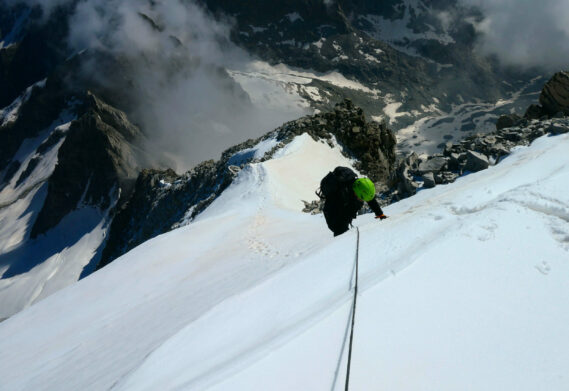 Location
Presanella Group
Included
Service and guidance of a certified mountain guide for the whole duration of the experience
Mountaineering equipment (harness, helmet and crampons)
Individual fee
360 €/per person
2 people
Meeting in the afternoon at the guide office, briefing and equipment check. Ascent by car to Valina d'Amola and then on foot to the Segantini refuge, where we will spend the night.
The next day, early in the morning, we will set off towards Bocca d'Amola, which can be reached by walking for a couple of hours. From this point the real climb begins, alternating between more difficult and easier sections on rock, snow and ice, which will take us to the 3556 m of the Presanella peak.
Once at the summit, after the usual photos and a short break for a snack, we return to the Segantini refuge following the Via Normale, crossing by the Orobica bivouac, the fireplaces and the Montenero pass.
From the Segantini refuge, after lunch, we return to the car park and then to valley.