Nella and Bruno path
Panoramic route through spruce forests around the village of Madonna di Campiglio; dedicated to Bruno and Nella Detassis.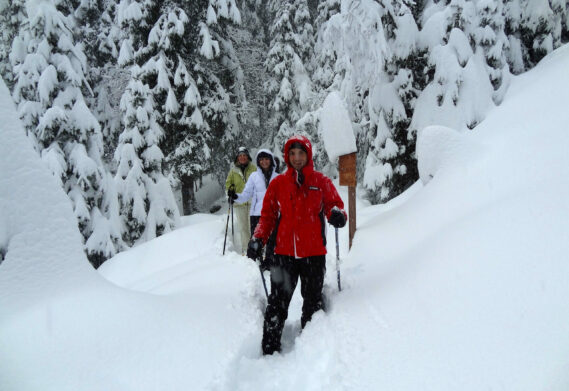 Location
Presanella Group
Included
Service and guidance by a certified mountain guide throughout the experience
Loan of snowshoes and sticks
Individual fee
40€/per person
minimum 6 people
Meeting at the Guides' Office in Via Campanil Basso 5.
We leave with the snowshoes at the end of the Miramonti rill and walk uphill for about half an hour to the entrance of Nambino valley. The route continues along the ancient "Angiolina Weg" trail, which was built at the time of Austrian rule and has now been restored by Claudio and Jalla Detassis and dedicated to their parents Nella and Bruno. The route crosses the entire southern slope of the Pradalago mountain, with a beautiful view over the Brenta group.
Interesting itinerary interspersed with Bruno Detassis' thoughts on wooden boards.
Morning excursion 9.30 a.m., return 12.30 p.m.
Afternoon excursion 1.30 p.m., return 4.30 p.m.
Equipment required
Comfortable snow clothing, winter footwear with high collar, gloves, hat, sunglasses, backpack with water and snacks