Nambino valley
Exciting excursion around Madonna di Campiglio where you can admire unique views over the Brenta Dolomites and the Presanella group.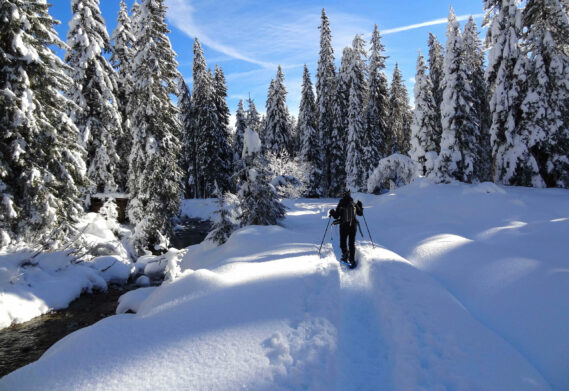 Location
Madonna di Campiglio
Included
Service and guidance of a certified mountain guide for the whole duration of the experience
Loan of snowshoes and walking sticks
Individual fee
40€/per person
minimum 6 people
Meeting point at the Guides' office in Via Campanil Basso 5.
We leave with snowshoes on at the bottom of the Miramonti rill and we walk uphill for about half an hour to the entrance of Nambino valley. Crossing the entire plain to the base of the slope that leads to the lake, we reach the small bridge that crosses the Sarca river, then we return to the opposite side reaching a beautiful hut built by Alpini. We keep going on the plain and then downhill back to Madonna di Campiglio.
This trail offers a sensation of wide open spaces in the middle of nature that is characteristic of our wonderful mountains.
Morning excursion at 9.30 am, return at 12.30 pm.
Afternoon excursion at 1.30 p.m., return at 4.30 p.m.
Equipment required
Comfortable snow clothing, winter footwear with high necked collar, gloves, hat, sunglasses, backpack with water and snacks