Mount Nambino
The excursion to mount Nambino from the north side is very scenic and leads across frozen lakes, sparse woods and medium-slope channels. This is a suitable excursion for those who have recently taken up ski mountaineering and are looking for rewarding emotions in an enchanting high mountain environment.
An atmospheric medium-length itinerary in the Presanella group.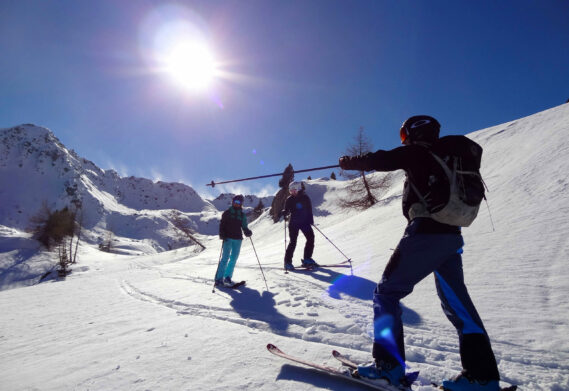 Season
primavera, inverno
Location
Madonna di Campiglio
Included
Service and guidance of a certified mountain guide for the whole duration of the experience
In-depth study of skiing techniques, both uphill and downhill, depending on the type of snow
Training in the use of avalanche transceivers (ARTVA) and an introduction to nivology
Loan of avalanche safety equipment (ARTVA, shovel and probe) and crampons
Individual fee
150 €/per person
2 people
100 €/per person
3-4-5 people
Meeting at Guides' office at 8.30 am.
Briefing and equipment check.
After a short trip by car we reach the car park next to the Genzianella restaurant. Departure on skis along the forest road which soon leads to Vigo hut (possible refreshment point). Continuing now along the track in the wood, we ascend until we reach Malghette lake, and the adjacent refuge with the same name. The scenery now becomes enchanting, and through sparse woods we reach Malghetto Alto. With a constant gradient along undulating slopes, we enter a very characteristic little valley: we follow it with a constant inclination, at the end of which a steep rill leads us to the summit. The view is rewarding for the efforts made, both towards the nearby Brenta Dolomites and the Presanella group.
Descent along the ascent route.
A convenient alternative route allows us to avoid the first part of the itinerary by taking advantage of the ski lifts, reaching Malghetto Alto.
Height difference in ascent: 1200 m
Height difference in descent: 1200 m
Difficulty: MS