Montagnoli lake
Half-day snowshoe hike through snowy woods and pastures near the village of Madonna di Campiglio.
A varied and interesting itinerary that enters the spruce woods that cover the slopes of mount Spinale. Remarkable view of the Presanella mountain group.
Excursion with some uphill sections, suitable for moderately active people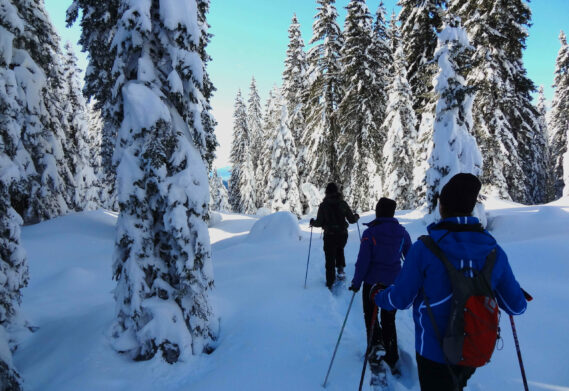 Season
primavera, inverno
Location
Brenta Dolomites
Included
Service and guidance by a certified mountain guide throughout the experience
Loan of snowshoes and sticks
The cost of the skibus is not included in the price
Individual fee
40€/per person
minimum 6 people
Meeting and departure from the Alpine Guides' office in via Campanil Basso n.5.
Transfer by ski bus to Passo Campo Carlo Magno. We put on our snowshoes and start the excursion, which uphill takes us to lake Zedola, located near the Montagnoli refuge.
After a short break, we carry on hiking among firs and larches until we reach the sunny south side of mount Spinale: the view towards the nearby mountains of Carè Alto and Cavento reward the effort made.
Then downhill we reach the village of Madonna di Campiglio, near the guide's office.
This is a varied and interesting itinerary, which requires a little physical effort during the first part.
Morning excursion at 9.30 a.m., return at 12.30 p.m.
Afternoon excursion 1.30 p.m., return 4.30 p.m.
Equipment required
Comfortable snow clothing, winter footwear with high collar, gloves, hat, sunglasses, backpack with water and snacks