Mondifrà hut
A half-day snowshoe hike through snowy woods and pastures near the village of Madonna di Campiglio.
This pleasant itinerary offers breathtaking views over the nearby Brenta Dolomites and the Presanella mountain group.
During the hike, which is also suitable for children, notions of nivology and alpine botany will be mentioned.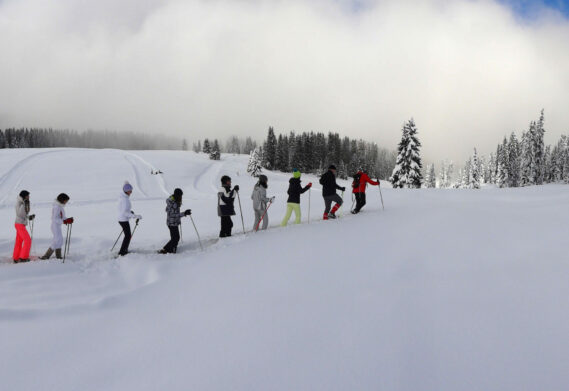 Season
primavera, inverno
Location
Brenta Dolomites
Included
Service and guidance by a certified mountain guide throughout the experience
Loan of snowshoes and sticks
The cost of the skibus (one way) is not included in the price
Individual fee
40€/per person
minimum 6 people
Meeting and departure from the Alpine Guides' office in via Campanil Basso n.5.
Transfer by ski bus (ticket not included in price) to Passo Campo Carlo Magno.
Once the snowshoes are on, the excursion begins. The itinerary will be chosen by the Guide according to the snow conditions and the expectations of the group: there are several possibilities to reach the Mondifrà hut. Through an enchanting environment, made up of ups and downs among fir and larch woods, the guide will trace a different route each time, guaranteeing an exciting and pleasant journey, returning to the guide's office with snowshoes on our feet.
Morning walk 9.30 a.m., return 12.30 p.m.
Afternoon walk 1.30 p.m., return 4.30 p.m.
Equipment required
Comfortable snow clothing, winter footwear with high collar, gloves, hat, sunglasses, backpack with water and snacks