Hunters' tour
Fascinating hike in a wild environment where with a bit of luck it will be possible to see some wild animals.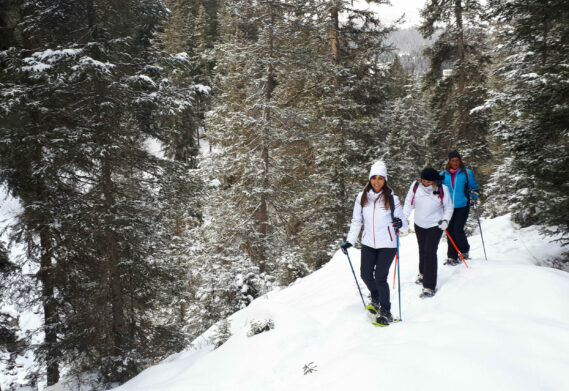 Location
Brenta Dolomites
Included
Service and guidance by a certified mountain guide throughout the experience
Loan of snowshoes and sticks
The cost of the cable car (one way) is not included in the price
Individual fee
40€/per person
minimum 6 people
Departure from the Guide's Office in via Campanil Basso 5.
Ascent by cable car to the Grostè intermediate station. Through the snow-covered meadows below the Pietra Grande peak, we descend to the "Bait del Primo". We continue through the woods to Poza Vecia, Campo Carlo Magno and then to Madonna di Campiglio.
Panoramic view over the Brenta group, Adamello, Presanella and Cevedale.
Morning excursion 9.30 a.m., return 12.30 p.m.
Afternoon excursion 1.30 p.m., return 4.30 p.m.
Equipment required
Comfortable snow clothing, winter footwear with high collar, gloves, hat, sunglasses, backpack with water and snacks