High Bocchette
A very satisfying via ferrata that connects the Bocca di Tuckett to the Alimonta refuge through exposed ledges and vertical stairs, reaching an altitude of 3000m.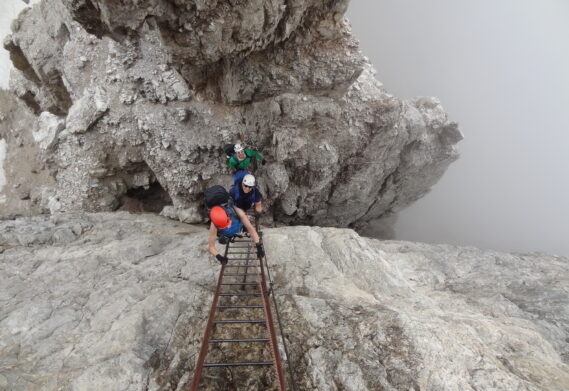 Location
Brenta Dolomites
Included
Service and guidance of a certified mountain guide for the whole duration of the experience
Mountaineering equipment (harness, helmet and ferrata set)
Individual fee
235 €/per person
2 people
180 €/per person
3 people
Meeting in the early afternoon at the office of the Mountain Guides, briefing & equipment check.
Transfer by car to Vallesinella and then walk to the Tuckett refuge (2270 m), where we will spend the night.
The next morning, after breakfast, we climb up to the Bocca di Tuckett (2648 m) where the High Bocchette via ferrata begins. After having climbed up the north ridge of the Brenta peak, using ladders and metal cables in the more exposed sections, we will reach the large ledge that runs along the east face of the peak. We cross the ledge to get above the south face with its breathtaking view and then continue on to the ridge of Brenta peak. From this point, after a short descent, we climb up the famous "Scala degli amici" and the Massodi ridge. Finally, with a fun exposed downhill, we return to the Alimonta refuge (2580 m) and then to Vallesinella.
The trail can also be done in the opposite direction, from the Alimonta refuge to the Tuckett refuge.