Grottino
Just a few minutes from the centre of Madonna di Campiglio, simple waterfalls are transformed into fantastic adventure areas!
Here, in front of crystal-clear structures, games of light, transparencies and opacities, we can approach this particular activity, in a comfortable and perfect place for those who use crampons and ice axes for the first time, but also for those who want to improve.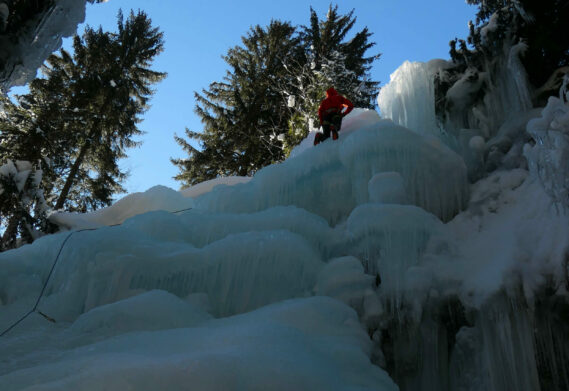 Location
Madonna di Campiglio
Included
Service and guidance of a certified mountain guide for the whole duration of the experience
Teaching of ice climbing techniques, rope handling
Individual fee
50 €/per person
3-4-5 people
Meeting at the guide office, briefing and material check. Transfer to the south area of Madonna di Campiglio: a few minutes' walk leads us into the canyon carved by the Sarca river and to the base of the frozen waterfalls.
Wearing a harness and helmet, we can put on our crampons and start to take our first steps on the ice, until we get confident and start to use the ice axes to climb the various ice lines that offer difficulties for all tastes, both for beginners  and for those who want to improve.
At the Grottino it is also possible to try dry-tooling techniques and climb with ice axes and crampons on the rock.
Equipment required
Comfortable winter clothing, two pairs of gloves, headband, small backpack with snacks and thermos