Falkner peak
A very elegant peak, not very well known in ski touring, but very interesting to experience some steep skiing. It is in the middle between the more popular Grostè peak and Sella peak. The ascent can be made from the north face and the descent from the east face, which is made easier by the quick settling of the snow, which guarantees a safe route.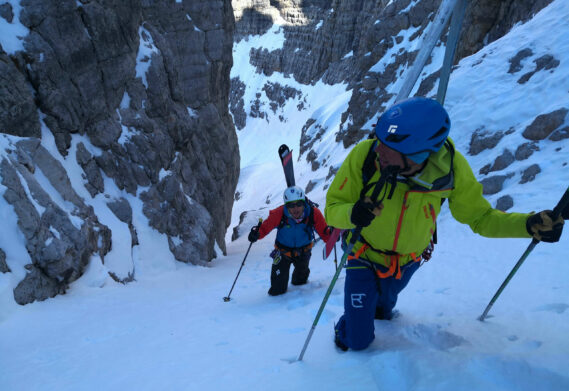 Location
Brenta Dolomites
Included
Service and guidance of a certified mountain guide for the whole duration of the experience
Introduction to movement techniques during the secured ski descent and basic knowledge on nivology and risk assessment
Individual fee
350 €/per person
1 person
200 €/per person
2 people
Meeting point at the Grostè cable car departure point at 8.30 a.m., ascent by cable car to the Grostè pass and descent on skis diagonally in the direction of the Tuckett refuge and then ascent to the north, initially through the wide valley and then following the rill with a gradient of around 45°, with ice axe and crampons, until we reach the 2999 m summit. Once the summit has been reached, the descent can be made on the opposite side (south), which is only for experienced skiers, given the steep descent and the exposed route. After the first, more demanding part, we arrive with ease and with some false planes in the direction of the Grostè pass and from the ski slopes we return to valley.
Height difference in ascent: 600 m
Height difference in descent: 1500 m
Difficulty: OSA