Falculota pass
A circular route offering spectacular views over the Adamello group, Presanella and the Brenta Dolomites, with moderate slopes, but which will give even the most experienced skier a great deal of satisfaction.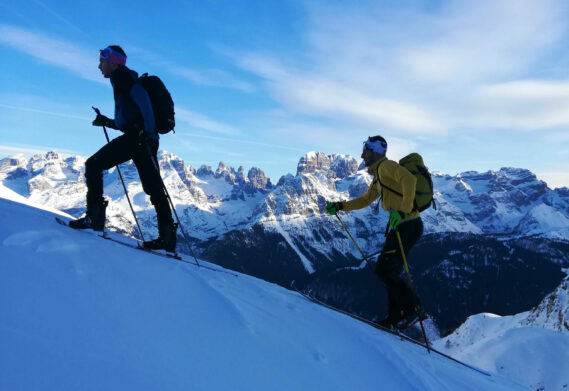 Season
primavera, inverno
Location
Presanella Group
Included
Service and guidance of a certified mountain guide for the whole duration of the experience
Meeting point at 8.30 a.m. at the Guides' office, briefing & equipment check for participants.
Transfer by own means to Fratè (5 minutes).
We leave the car just above Fratè (1370m) and put on our alpine skis, passing by the Paluac farmsteads and head for the sunny Milegna meadows. Crossing at altitude and taking care to keep to the summer trail, we reach Valchestria hut where we can take a break and enjoy the view over the Brenta peaks, before the last part of the climb outside the vegetation. When we reach the Falculota pass (2295 m), we turn around Ritorto mount, being careful not to lose too much altitude, and we reach Pian dei Mughi. From there, with an enjoyable descent, we reach the panoramic clearing of Milegna, Masi Paluac and Fratè, returning to the starting point.
Total height difference in ascent: 1150 m
Total height difference in descent: 1150 m
Difficulty: MS