Corna Rossa – Via Neverland
The route follows the aesthetic southern edge with 6 rope lengths of 25 metres each, facing the Corna Rossa face with moderate difficulty.
Given the recent re-pitching it is suitable for those who want to start on a multi-pitch route in a stunning environment.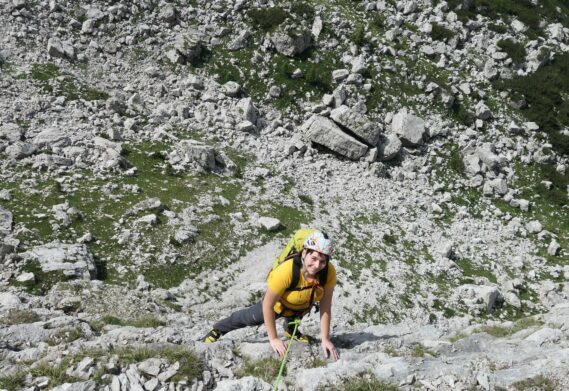 Location
Brenta Dolomites
Included
Service and guidance of a certified mountain guide for the whole duration of the experience
Introduction to handling techniques on a multi-pitch climbing route
Individual fee
180 €/per person
2 people
Meeting at the Grostè cable car departure point at 8.30 a.m.
Ascent by cable car to the Grostè pass: from this point, it takes half an hour to reach the start of the route. The ascent will be enriched with a demonstration and teaching of the fundamental manoeuvres for progression on this type of terrain. At the end of the route, another 30 minutes' walk will take us back to the Grostè cable car.
Height difference for approach and return: ascent + 250 – descent – 250
Climbing route length: 120 metres
Difficulty: III+ with some 4° passages
Rock: very good