Corna Rossa – Via Nella Detassis
A classic climbing route in an atmospheric environment, ideal for those with a minimum of climbing experience who want to approach the Dolomite routes.
This historic itinerary was opened by Bruno Detassis with his wife Nella and named after her in the 1940s.
Route with constant exposure and solid rock.
Difficulty: VI+.  Length: 300 metres.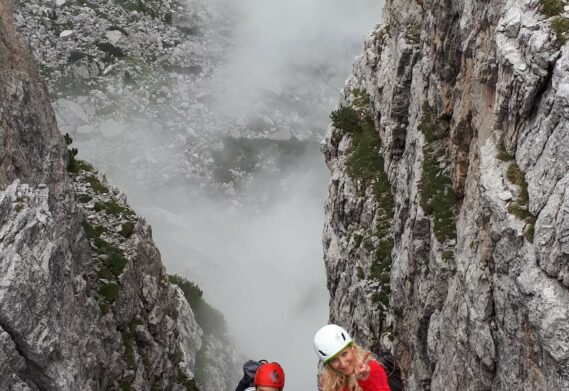 Season
primavera, estate, autunno
Location
Brenta Dolomites
Included
Service and guidance of a certified mountain guide for the whole duration of the experience
Mountaineering equipment (harness, helmet, climbing-shoes)
Individual fee
190 €/per person
2 people
Meeting at Fortini at 8.30 a.m.
Ascent by cable car to Grostè pass. The descent takes about 45 minutes to reach the starting point of the route at the Sat tower.
The attack is located near the channel that separates the tower from the adjacent one; the attack of the route follows a marked chimney that rises diagonally to the left.
We continue for a few metres and, after passing a slot, we take up the edge of the tower. At this point we traverse obliquely, steeply and exposed to the left to reach a slot; we continue vertically until we reach a characteristic mountain pine.
We continue along the distinctive, slightly overhanging dihedron (key pitch of the climb) until we reach a slab; we continue traversing until we reach a slot that climbs slightly diagonally to reach the edge of the tower. We continue up the exposed final wall to the left until we reach a last terrace; in a short time we proceed along the edge that leads to the summit.