Corna Rossa – Via Detassis Vidi
A classic alpine route opened by Bruno Detassis and Natale Vidi in August 1946. The route is very popular thanks to the quick approach and  the sunny exposure for several hours a day. This legendary route runs along the south-eastern edge of the first tower of Corna Rossa.
The itinerary is characterized by constant exposure and steepness; highly recommended.
Difficulty: V- Length: 300 metres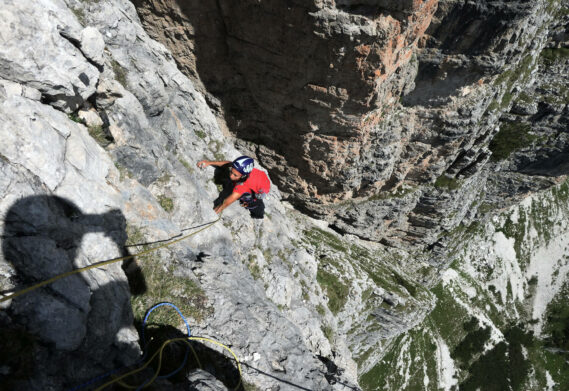 Season
primavera, estate, autunno
Location
Brenta Dolomites
Included
Service and guidance of a certified mountain guide for the whole duration of the experience
Mountaineering equipment (harness, helmet, shoes)
Individual fee
190 €/per person
2 people
From the arrival point of the Grostè cable car, a short descent takes us to the base of the impressive Corna Rossa wall.
Once we reach the edge, the climbing begins:
– first part: we attack the edge, after a few metres we cross to the left, then straight on to the first stop (25 m, IV);
– second part: we continue with a nice climb towards the top on the corner (30 m, III IV);
– third part: we go over the top of the roof on the right and continue along a short dihedron and a slab (35 m, V IV+);
– fourth pitch: we continue along an easy climb (50 m, III);
– fifth part: still along the edge until we reach a black and vertical dihedron (35 m, III IV+);
– sixth part: key pitch of the route, along a yellow slot (V) and then traversing under some cliffs, we cross in an exposed section until we reach a grey slab (30 m, V);
– seventh part: we climb along the slab and with an easy climb we reach the summit (25 m, IV+ III).