Contrabbandieri trail
The Contrabbandieri trail, also known as "Tracciolino" or the Massimo Torti alpine trail, is a combination of a via ferrata and a climbing route. An exciting trail along exposed ledges over Lake Garda.
The ledge retraces what was once the path of the salt and tobacco smugglers, recalling the story of these fearless men.
This is a very satisfying itinerary, highly exposed and suitable for those who want to try something different from the classic via ferrata.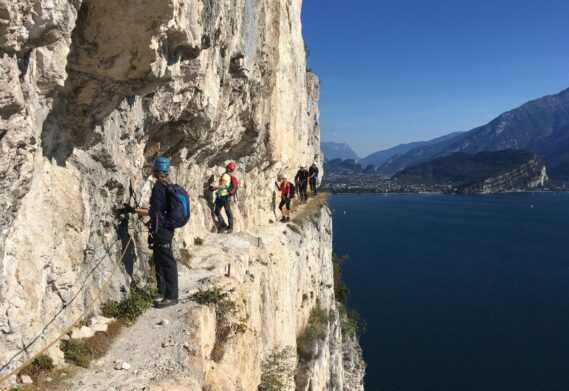 Season
primavera, autunno, inverno
Included
Service and guidance of a certified mountain guide for the whole duration of the experience
Mountaineering equipment (harness, helmet, via ferrata set)
Logistical information
Individual fee
150€/ per person
2 people
100€/ per person
3 people
Meeting at 9.00 a.m. at a location to be agreed with the mountain guide.
Briefing and equipment handover. Drive to Pregasina, where there are several car parks.
On foot along the road (old Ponale road) we soon reach the path, which is partially exposed and leads to the starting point of the equipped trail. We continue along the ledge, secured by using the anchors and following the indications of the Alpine Guide.
The itinerary is distinguished by the absence of metal cables, typical of via ferrata: this peculiarity makes this spectacular path unique and unconventional.
The trail has a series of long exposed sections over the lake, some ironed sections and passages occasionally overhanging. After a short section balancing on an old trunk, we continue downhill along a ladder and then along vertiginous ledges.
When the via ferrata seems to end, another very exposed passage awaits us. At this point the trail becomes more and more comfortable and then a normal path.
For the return there are 2 possible options:
The first one is to continue downhill until we reach the West Gardesana road near Gola, where there are several car parks (a car is necessary on site);
The second option is to return on foot to Pregasina, along a path that climbs along the canal above (quite tiring) and leads back to the starting point.
Equipment required
Sportswear and trekking shoes, backpack with water and snacks