Campaniletto dei Camosci – Via Normale
An aesthetic peak between the Grostè peak and the Campanile dei Camosci: a short but satisfying climb on excellent rock with a maximum difficulty of IV°.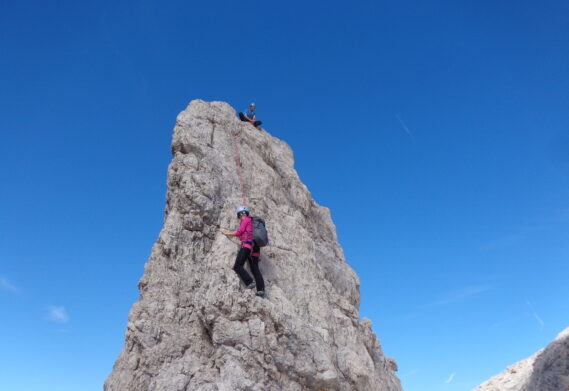 Location
Brenta Dolomites
Included
Service and guidance of a certified mountain guide for the whole duration of the experience
Mountaineering equipment (harness, helmet, climbing shoes)
Individual fee
180 €/per person
2 people
Meeting point at 8.30 a.m. at the Grosté cable car park.
Briefing and equipment handover to participants.
Ascent with the cable car to the Stoppani refuge.
From Grostè pass (2444m) we will walk along the Benini path and, after approximately one hour of walking, we will reach the start of the route.
The climbing line follows the weak points of the east face of the characteristic obelisk and, after five rope lengths, we will reach the summit.
The descent will be faced with amusing double ropes and then we will return on foot to the Grostè pass and then by cable car to Madonna di Campiglio.