Brenta valley
Ice climbing, like all winter sports, offers us ephemeral terrain surrounded by a visually stunning, almost magical environment. The environment in which we move offers strong emotions and every climb is a unique experience and a challenge to come face to face with our wildest side. Simple waterfalls and streams are transformed into fantastic adventure terrains! Here, in front of crystal-clear structures, games of light, transparencies and opacity, we are offered the chance to measure ourselves against our limits, to appreciate the majesty of winter and nature, the uniqueness and precariousness of the environment, which is never the same.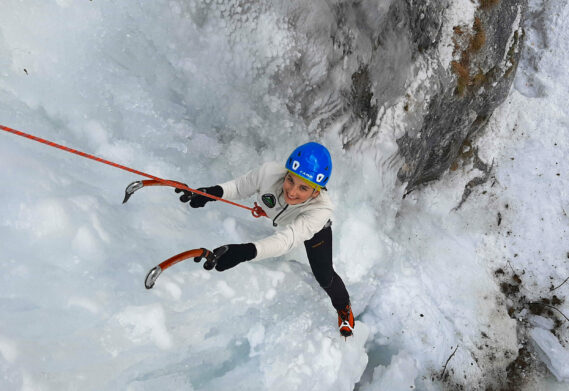 Location
Brenta Dolomites
Included
Service and guidance of a certified mountain guide for the whole duration of the experience
Teaching of ice climbing techniques, rope manoeuvres
Possible loan of technical equipment
Individual fee
150 €/per person
2 people
100 €/per person
3-4-5 people
Meeting at 8 a.m. at Pra della Casa, at the end of the road to Brenta valley.
After about 1 hour's walk we enter Brenta valley shortly before the Scala di Brenta.
On the crown of rocks that interrupts the valley there are about thirty icefalls: with an average height of about 60m, they are an excellent testing ground for ice climbing, offering difficulty for everyone, from beginners to the most experienced ice climbers. Depending on the number of participants, it is possible to climb multi-pitch waterfalls or top-rope, making the best use of the day.
Equipment required
Comfortable snow clothing, winter footwear with high collar, gloves, hat, sunglasses, backpack with water and snacks