Brenta peak by Massari slide
A great excursion that reaches the highest peak of the Brenta Group. A climb that requires good physical ability and a high technical level.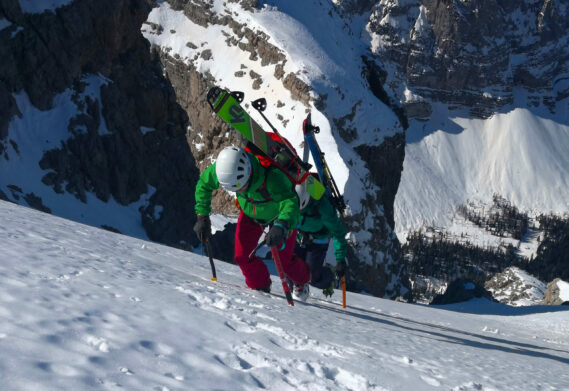 Season
primavera, inverno
Location
Brenta Dolomites
Included
Service and guidance of a certified mountain guide for the whole duration of the experience

Introduction to movement techniques when skiing downhill
Main notions of nivology and risk assessment
Individual fee
220 €/per person
2 people
180 €/per person
3 people
Meeting point at the Grostè cable car departure point at 8.30 am.
Ascent by cable car to the Grostè pass and descent on skis to the Tuckett refuge. We continue on the north-west slope along the Vedretta di Brenta Superiore, also known as the Massari slide. Once the slide is completed, we leave our skis on and continue along the ridge that leads to the Brenta west peak and then to the peak itself (Brenta east peak).
The descent follows the same route, heading down to Vallesinella and Brenta valley.
Height difference in ascent: 1200 m
Height difference in descent: 2000 m
Difficulty: OSA